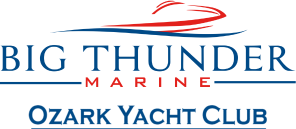 Big Thunder Marine at Ozark Yacht Club offers six homes ranging from three-bedrooms that sleep 10 people all the way up to eight-bedrooms that sleep 24.
The homes at Ozark Yacht Club all offer full-sized beds as well as two bunk beds. Our homes have elegance and charm, offering beautiful Lake views, a private beach lined with white sand, a swimming pool and discounted boat rentals onsite.
In addition to Ozark Yacht Club, Big Thunder also has six two-bedroom, one-bath condominiums overlooking the Lake of the Ozarks at Port Elsewhere Resort Club. The condos at Port Elsewhere are based on availability.
At Big Thunder Marine, we are able to offer all of our guests the full Lake experience that no other property management company can offer.